Sanpeng Chemical Industry Co.,Ltd is a holding company of Zibo Qixiang Petrochemical Co., Ltd..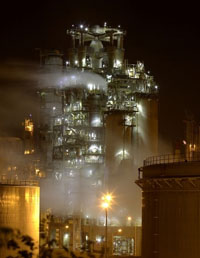 Located in the ancient capital of Qi - Linzi, north of Jinan-Qingdao Expressway, according to South Jinan-Qingdao railway, transport facilities, has a high regional advantages and broad space for development.
Sanpeng Chemical Co., Ltd. is a chemical intermediates, additives, catalysts for the main business, the company has passed ISO9001 quality certification. The main products are: 3 - chlorinated phthalic anhydride, 4 -chlorinated phthalic anhydride, high-pressure polyethylene (LDPE) anti-stick masterbatch, dispersant NNO (beta-naphthalene sulfonic acid formaldehyde condensate), linear low density polyethylene premixes QCP8 # 9 # antioxidant SP (styrene-phenol), inhibitor N, N-diethyl hydroxylamine (DEHA), C5 separation polymerization inhibitor, methanation catalyst composite iron oxide fine desulfurizer, change sexual activated carbon desulfurization agent, 823 sulfur recovery catalyst, cobalt-molybdenum hydroconversion catalyst series sulfur tolerant shift catalyst resistant the sulfur organic sulfur hydrolysis catalyst, 821 sulfur recovery catalyst, a series of wide temperature hydrolysis catalyst, a series of spherical zinc oxide desulfurizer products are widely used in major petrochemical companies, praised by users, is in the petrochemical, oil level suppliers.
The Sanpeng Chemical Co., Ltd., fine chemical products for the development of the main line, management innovation, technological innovation, institutional innovation as the driving force for development, for the development of the company to build a first-class modern chemical enterprise, adhere to create first-class products, to with the user, with the development and prosperity of the business objectives, higher, stronger, the greater goal of forging ahead!